I've been bad about blogging and worse about commenting lately. Ick ick ick. Curse you vedic India for pulling away from my trivial pursuits!
For those of you who don't know my father, (which would be um, all of you) he is OB-SESSED with the film
Blade Runner
. It is his Star Wars. He owns a box set, two director's cuts, and we have a drink cooler emblazoned with "nexus6" on the top. He once went to a specific Starbucks because the barista's name was Rachel. I wish I were kidding. I could have always taken or left it, but one aspect I did feel strongly about is the clothes.
One aspect of the future that they got right in 1982 is the obsession with past eras that is only gaining fuel here in the oh-eight. In this instance, it is the forties. But the severe lines, exaggerated silhouettes have been taken to a new level. Rachel is a great example, and one of the awful parts about this movie is how few of her outfits you get to see!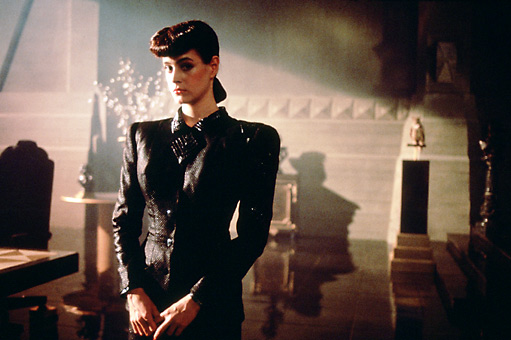 Alexander McQueen eat your heart out.
That hair/makeup is to.die.for. Never before have I so strongly desired a perm...
Fur is wrong wrong wrong....but God do I want that coat.
And on the other end of the spectrum, we have Pris:
Ultra cool. Ultra futuristic, writhing around in "hamburglar" makeup and a fishnet bodysuit. Margiela much?