Since I have a little extra time on my paws, (probably the last time you'll hear my say that before Thanksgiving) I figured it was high time for another of my semi-famous
art comparison posts!
First off I thought I'd start with a nice challenge: architecture! You always here the "sculptural" quality of a garment being discussed, so I thought I'd put that to the test.
I once read somewhere that Rem Koolhaas and Miuccia Prada were once lovers and that's why he designs so many Prada stores. I have no idea if this has even a grain of truth, but it's certainly interesting. The Dutch architect is probably one of the most well known of the current age, and it's easy to see where his massive, geometric designs (like the magnificent Seattle library, below) could influence fashion.
Gareth Pugh
Everybody, I mean, everybody, knows who Frank Lloyd Wright is. Mysogynist? Yes. Genius? Absolutely. I remember my friend Nick and I once got into a big argument on what influenced the design of Starbucks stores more, the Arts and Crafts movement or Frank Lloyd Wright. Why a mysogynist you ask? He made kitchens inordinately small. There's a Usonian house a couple hours away from here called the Rosenbaum house. The owner's wife had four teenage boys, and I'm sure most of your closets are bigger than this kitchen. Frank Lloyd Wright is arguably best known for the covetable design of his windows.
Windows of the Robie House, Chicago 1906
Lanvin
Hans Holbein the Younger was one of the most prolific portraitists of the 16th century. Though he is most famous for his dominating portrait of Henry VIII in his overwrought Sunday's best (think of him as an early Sartorialist), most of his subjects were downwright austere. Since this season is all about pragmatism and sober lines and economic recession, I wouldn't be surpised if a few designers are taking cues from him.
Woman With A Squirrel, 1526-28
Balenciaga
The early to mid-19th century was all about rocking the casbah. Specifically, Orientalism, orient meaning the Middle East, not Asia. Lots of pictures of girls in harem pants, rich coloured silks, paillettes and feather headresses. It might as well read as a "fashion forecast" for 2008.
Pierre-Auguste Renoir "A Woman of Algiers" 1870 (I wrote a term paper on this one)
Alexander McQueen
I was fixated with the Degas ballerinas as a little one. The soft, delicate colours, the pastel tulle and elaborate tutus. God knows I wore a velvet ribbon round my neck for years (though that was partially influenced Anne Boleyn). Every designer has done a "ballerina look". But I think it looks best when it stays away from modern trappings, leotards, wrap sweaters, and far far away from leg warmers, and sticks with Degas' confectionary vision.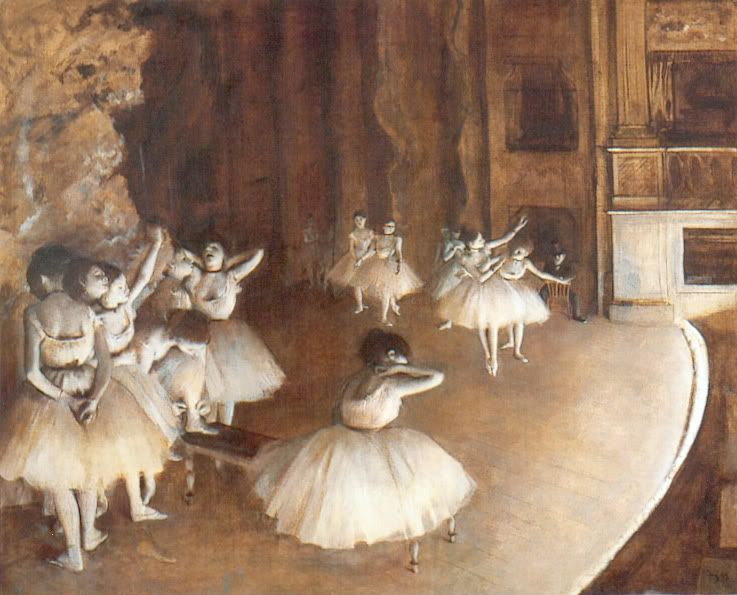 On The Stage, Egar Degas 1874
Rodarte